Prof. Kuan-Chou Chen, Purdue University Northwest, USA
Keynote Speaker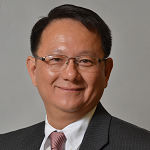 Kuan-Chou Chen is the Associate Dean for Graduate Program and Research, Thomas M. McDermott Sr. Endowed Chair, Professor in Economic Development, Professor of Management Information Systems. He was the Department Head of Information Systems, Finance, and Business Analytics (2005-2016), as well as Interim Department Head of Department of Graduate Studies in Education (2013-2014) at Purdue University Northwest. He received his Ph.D. from Michigan State University and his MBA from National Cheng-Kung University in Taiwan. He specialized in computer programming, system simulation, project management, decision support systems, data mining, system analysis and design, e-business strategy and application, supply chain management, network design and security, knowledge management, and information economy. Professor Chen has more than 90 scholarly publications, most in peer-reviewed journals. He is an active participant in several professional journals and serves on three paper reviewer boards. Currently he is an Editor-in-Chief of International Journal of e-Education, e-Business, e-Management and e-Learning. His productivity and scholarship have been recognized by his colleagues, being nominated three years in a row for an "Outstanding Scholar Award." He also the recipient of Teacher of the Year Award (Purdue University Northwest, 2005).

Prof. Naoyuki Ishimura, Chuo University, Japan
Keynote Speaker
Prof. Naoyuki Ishimura was born in Tokushima, Japan in 1964. He obtained his bachelor's degree of Physics in 1986 and master's degree of Mathematics in 1989 both at University of Tokyo, Japan. He obtained his PhD from University of Tokyo in 1993 with the title "Analytic properties of mean curvature flows." He was Research Associate of Mathematics at University of Tokyo from 1989 to 1996. He promoted to Associate Professor of Mathematical Sciences at Hitotsubashi University, Japan from 1996 and became full Professor from 2005. His interest gradually involves Mathematical Finance and he was a director of CFEE (Center for Financial Engineering Education) at Graduate School of Economics, Hitotsubashi University from 2011 to 2015. He had moved to Chuo University since 2015 and has been a representative of the research team of "Study on quntitative risk management" of the Institute of Business Research, Chuo University from 2017. Prof. Ishimura is a member of JSIAM (Japan Society for Industrial and Applied Mathematics) and a representative of Mathematical Finance study group. His area of research includes the quantitative risk management, the mathematical finance, the applied analysis, and the theory of nonlinear partial differential equations.