Prof. Kuan-Chou Chen, Purdue University Calumet, USA
Keynote Speaker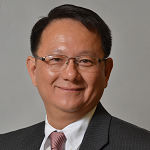 Kuan-Chou Chen is the Thomas M. McDermott Sr. Endowed Chair, Professor in Economic Development, Professor of Management Information Systems, and Department Head of the Department of Information Systems, Finance, and Business Analytics, as well as Interim Department Head of Department of Graduate Studies in Education (2013-2014) at Purdue University Calumet. He received his Ph.D. from Michigan State University and his MBA from National Cheng-Kung University in Taiwan. He specialized in computer programming, system simulation, project management, decision support systems, data mining, system analysis and design, e-business strategy and application, supply chain management, network design and security, knowledge management, and information economy. Professor Chen has more than 90 scholarly publications, most in peer-reviewed journals. He is an active participant in several professional journals and serves on three paper reviewer boards. Currently he is an Editor-in-Chief of International Journal of e-Education, e-Business, e-Management and e-Learning. His productivity and scholarship have been recognized by his colleagues, being nominated three years in a row for an "Outstanding Scholar Award." He also the recipient of Teacher of the Year Award (Purdue University Calumet, 2005).
Assoc. Prof. Craig L. Israelsen,
Utah Valley University, USA
Plenary Speaker
Craig L. Israelsen, Ph.D. teaches in the Personal Financial Planning program at Utah Valley University (USA). Primary among his research interests is the analysis of mutual funds and the design of investment portfolios. He writes monthly for Financial Planning Magazine. His research has also been published in the Journal of Financial Planning, Journal of Asset Management (U.K.), Journal of Performance Measurement, Asia Financial Planning Journal (Singapore), Journal of Family and Economic Issues, and Financial Counseling and Planning.
Speech Title: Building a Personal Investment Portfolio: Moving from the Efficient to the Effective Frontier
Abstract: In the early 1950's Dr. Harry Markowitz's research on mean-variance optimization blazed a trail toward what is now referred to as Modern Portfolio Theory. His efficient frontier produced a variety of insights, not the least of which is the value of portfolio diversification.
In one version of his classic graph, various combinations of a simple two-asset portfolio are demonstrated—the typical pairing being US cash and US large cap stock. The characteristic upward sloping graph is illustrative of the risk/return tradeoff when moving from a cash-based portfolio to an increasingly stock-based portfolio.
It's no longer 1950. We have dozens and dozens of asset classes to choose from—far more than were available to Dr. Markowitz in the 1950s. In this paper I will introduce a new version of the efficient frontier that I call the "effective frontier". This effective frontier can guide investors as they build their own investment portfolios that have superior risk/return characteristics compared to a 100% US stock portfolio.

Submission Method
Please submit your full paper/abstracts to our Electronic Submission System. (.pdf only)


Contact us
Conference Secretary: Zeke Zhou
Telephone: +852-3500-0005 (Hong Kong)
+1-313-263-4817 (USA)
+86-28-86528478 (China)
Address:Unit B on 15th Floor Eu Yan Sang Tower, Nos.11/15, Chatham Road South, Kowloon, Hong Kong.
E-mail: icmbt@iedrc.net

Sponsored by
Picture Gallery