Prof. Kuan-Chou Chen, Purdue University Calumet, USA
Keynote Speaker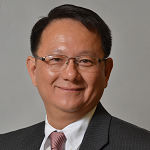 Kuan-Chou Chen is the Associate Dean for Graduate Program and Research, Thomas M. McDermott Sr. Endowed Chair, Professor in Economic Development, Professor of Management Information Systems. He was the Department Head of Information Systems, Finance, and Business Analytics (2005-2016), as well as Interim Department Head of Department of Graduate Studies in Education (2013-2014) at Purdue University Northwest. He received his Ph.D. from Michigan State University and his MBA from National Cheng-Kung University in Taiwan. He specialized in computer programming, system simulation, project management, decision support systems, data mining, system analysis and design, e-business strategy and application, supply chain management, network design and security, knowledge management, and information economy. Professor Chen has more than 90 scholarly publications, most in peer-reviewed journals. He is an active participant in several professional journals and serves on three paper reviewer boards. Currently he is an Editor-in-Chief of International Journal of e-Education, e-Business, e-Management and e-Learning. His productivity and scholarship have been recognized by his colleagues, being nominated three years in a row for an "Outstanding Scholar Award." He also the recipient of Teacher of the Year Award (Purdue University Northwest, 2005).
Speech Title: Business Intelligence Technology Trends: From Internet-of-Things to Artificial Intelligence
Abstract: This presentation explores several emerging technology trends that are likely to have major impacts on the development and use of business intelligence (BI) applications. The business environment is constantly changing, and the business model is becoming more and more complex. Organizations, private and public, are under pressures that force them to respond quickly to changing conditions and to be innovative in the way they operate. Such activities require organizations to be agile and to make frequent and quick strategic, tactical, and operational decisions, some of which are very complex. Business Intelligence is all about making better decisions, in a quicker fashion to respond to an ever-changing business environment where competition grows more and fierce all the time. In recent years, businesses across the world are rapidly leveraging the Internet-of-Things (IoT) to create new networks of products and services, that are opening up new business opportunities and creating new business models. The resulting transformation is steering in a new era of how companies run their operations and engage with customers. IoT and evolving Artificial Intelligence will continue to have dramatic impacts on society. Artificial Intelligence has the potential to free people of unnecessary labor and decision making, allowing them to pursue more constructive uses of their time. As a result, for companies to adopt the full potential of IoT enablement, they need to combine IoT with rapidly-advancing Artificial Intelligence (AI) technologies, which enable smart devices to simulate intelligent behavior and make well informed decisions with little or no human intervention.
Prof. Carin Chuang, Purdue University Northwest, USA
Plenary Speaker
Carin Chuang is a Professor of Management Information Systems in the College of Business at Purdue University Northwest. Carin holds a Ph.D. in Computer Information Systems from Purdue University and two Master degrees from Michigan State University with an emphasis on hospitality information systems and urban studies. Carin previously taught ten years in the Computer and Information Technology Department at Purdue University Northwest --- Westville campus and was awarded University wide 2014-2015 Outstanding Teacher Award.
Carin teaches undergraduate and graduate courses in Systems Analysis and Design, Project Management, E-Business Strategy, Principles of Information Systems, Database Management Analysis and Design, Advanced Spreadsheet Applications, and Internet Programming. Dr. Chuang has more than 50 scholarly publications. Dr. Chuang's research interests focus on enterprise resource planning (ERP) implementation and evaluation, system dynamics and simulation, business information system analysis, project management, e-business strategy, and experiential learning. Dr. Chuang was awarded four Scholarship of Engagement (SOE) Grants from the Indiana Campus Compact to design service-learning courses and community engagement projects.
Speech Title: The Integrating of Mobile Technologies to Enhance Teaching and Learning Opportunities
Abstract: Advancements in mobile technology are rapidly widening the scope of learning in areas outside of formal education. The advanced mobile technology offers a new generation of learning with great potential for people of all ages anywhere and anytime. In recent years, universities have made significant investments in technology systems to support various aspects of students' studies and learning. At one hand, the investments in technology are to attract or "pull" students into the online environment of the university. On the other hand, students also have come increasingly equipped with smart mobile devices which allow educators to "push" information to students for quick and easy communication and information sharing, so that each adds value to and complements the other. This talk will identify the mobile technologies that enhance the new opportunities for teaching and learning, examine the educational benefits and implementation issues in mobile learning, identify the guidelines for implementing effective mobile learning, and discuss the future of teaching and learning with mobile technologies.
Assoc. Prof. Craig L. Israelsen,
Utah Valley University, USA
Plenary Speaker
Craig L. Israelsen, Ph.D. teaches in the Personal Financial Planning program at Utah Valley University (USA). Primary among his research interests is the analysis of mutual funds and the design of investment portfolios. He writes monthly for Financial Planning Magazine. His research has also been published in the Journal of Financial Planning, Journal of Asset Management (U.K.), Journal of Performance Measurement, Asia Financial Planning Journal (Singapore), Journal of Family and Economic Issues, and Financial Counseling and Planning.
Speech Title: Building a Personal Investment Portfolio: Moving from the Efficient to the Effective Frontier
Abstract: In the early 1950's Dr. Harry Markowitz's research on mean-variance optimization blazed a trail toward what is now referred to as Modern Portfolio Theory. His efficient frontier produced a variety of insights, not the least of which is the value of portfolio diversification.
In one version of his classic graph, various combinations of a simple two-asset portfolio are demonstrated—the typical pairing being US cash and US large cap stock. The characteristic upward sloping graph is illustrative of the risk/return tradeoff when moving from a cash-based portfolio to an increasingly stock-based portfolio.
It's no longer 1950. We have dozens and dozens of asset classes to choose from—far more than were available to Dr. Markowitz in the 1950s. In this paper I will introduce a new version of the efficient frontier that I call the "effective frontier". This effective frontier can guide investors as they build their own investment portfolios that have superior risk/return characteristics compared to a 100% US stock portfolio.